Dr. Christopher Asandra M.D
Meet Dr. Christopher Asandra, MD, the Beverly Hills-based vitality expert behind NuMale Medical Center and NuFemme Rejuvenation Clinic. A revered anti-aging physician, Asandra is the founder and Chief Medical Officer of the celebrated total wellness practices that continue to better the sexual health and satisfaction of thousands annually, with locations from coast-to-coast.
A Kansas City native, Dr. Asandra received his combined BA/MD from the University of Missouri at Kansas City in 2003 upon completion of an intensive 6 year medical program. Asandra continued his training at the University of Illinois at the Chicago College of Medicine, gaining unparalleled experience and insight that would inspire pursuit of a cutting-edge specialty.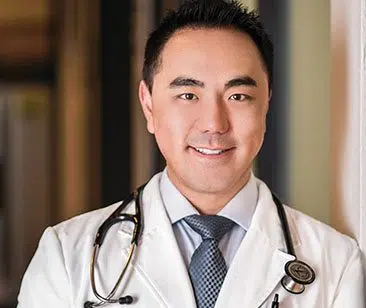 After dedicating years to extensive field and groundbreaking technical research, Dr. Asandra opened his first premier medical center for sexual health and wellness in 2013. With overwhelming demand for Asandra's renowned services and subsequent clinic success, the company grew to 12 locations nationwide within just the first two years of operation.
Expanding upon his pioneering anti-aging treatments and bio-identical hormone therapies, Dr. Asandra now provides a lauded lineup of cosmetic procedures, hormone replacement programs and sexual dysfunction treatments, tailored to each individual patient's needs and desires. Asandra continues to precept doctors and healthcare providers from around the world, training them on the latest techniques and his own signature procedures to cultivate the next generation of industry leaders.
Accolades aside, Dr. Asandra's gentle demeanor and compassionate ear are key factors in his success, putting patients at ease with his unmistakable Midwest charm. His greatest joy is giving so many the courage to get back to living their best, happiest lives with treatments rooted in his own vision of optimum health, balance, and vitality. An avid traveler, Asandra also enjoys playing piano and weightlifting in his spare time, but most of all, spending quality time with Tobi, his beloved rescue dog.
Dr. Asandra is one of the most sought after physicians by patients worldwide, and continues to train physicians and surgeons internationally on the various treatment modalities he has perfected with tens of thousands of satisfied patients along the years. These include:
Memberships, Boards and Affiliations
Bio-identical Hormone Therapy (BHRT) for men and women
World leader in hormone pellet therapy
PRP therapies for Cosmetic and Regenerative procedures, including
EROS Procedure™ for male/female sexual dysfunction
PRP Facelift
Hair restoration
Erectile Dysfunction & Female sexual disorders
VASER Hi-Definition Liposuction and Body Contouring
American Academy of Anti-Aging and Regenerative Medicine
American Academy of Cosmetic Surgery
American Board of Emergency Medicine
American Society of Cosmetic Laser Surgery
American Society of Hair Restoration Surgery
California Academy of Cosmetic Surgery
VASER Hi-Def Liposuction & Total Definer Certified
Dr. Asandra is frequently featured as an expert in his field on some of the most widely viewed media outlets, including:
FOX News
Extra TV
NBC
ABC News
Men's Fitness
Men's Health
Muscle and Fitness
Askmen
Huffington Post